Mt. Qilai North and Main Peaks
Jul
17 - 19
2020
Mt. Qilai North and Main Peaks are located to the east of the Hehuan mountain group and Wuling Pass. In fact, the usual trailead for the hike is just past the Ski Lodge off the Central Cross-Island Highway just a few hundred meters from the highest road crossing in Taiwan. It might be tempting to think that a hike that starts at 3212 m is going to be a relatively easy one, and you wouldn't be completely wrong if you think that.
In fact, the trail to Mt. Qilai first descends to a saddle at 2705 m before climbing to the highest peak at 3606 m. The second part of the trail involves plenty of rock scrambling, which still doesn't sound that hard, and it really isn't - on a warm, sunny day.
Mt. Qilai is on the windward side of the island and weather here can change quickly, bringing ice-cold winds and hail, and dropping the visibility to zero. Lots of hiking accidents happen here; deaths aren't uncommon. When coming here, it's important to be prepared with warm clothes and knowledge of the map. The North Peak is nicknamed "Black Qilai" both for its outward appearance and the history of misfortunes.
Permits
Both a park and mountain entry permit is required. The park entry permit is applied through the Taroko National Park application portal. For planning your application, start with the itinerary below. Note that the English names used in the itinerary are taken from the application system and are not the same as the names used in the rest of this guide.
Suggested itinerary
Day 1
(480 min) Mt. Qilai Trailhead → Heishuitang Cabin → Chenggong Cabin → Qilai N. Peak → Qilai Cabin
Day 2
(520 min) Qilai Cabin → Qilai Main Peak → Qilai Cabin → Chenggong Cabin → Heishuitang Cabin → Mt. Qilai Trailhead
The park entry application will reserve your bunks in Chenggong Cabin and Qilai Cabin. You can also apply to the Black Pond Cabin, although bunk spaces there are first-come first-serve. In addition to cabin space, you have to meet the daily quota for the Qilai section of the park. If you meet the quota but the cabins are full, you can also camp, but be warned: the Qilai Ridge at night can be very cold.
Transportation
Getting to the trailhead by bus will take a whole day. You will first need to get to Puli, then take a bus to Qingjing Farm, and finally transfer to a bus to Hehuanshan, alighting at Songxuelou. As you will arrive in late afternoon, consider getting a head start and camping the first night at Chenggong or Black Pond huts, just like in my trail notes below.
Variations
There are two common variations. The first is a single-day ascent of the North Peak. The second is a through hike to the North Peak, Main Peak, across the Kaluolou Cliff, and to the South Peak. The latter is done in three days. I will describe it some other time.
Day 0
18:49Depart the Ski Lodge. (Note: when starting a hike in the evening and only going a short distance, that day is typically not considered a real day and therefore denoted "Day 0".)
My hiking partners are Leah and Chaos. We met when I hiked the Four Graces of Wuling earlier in 2020.
19:18Pass by Mt. Little Qilai. It is already dark.
19:52Arrive Black Pond Cabin. Camp next to the cabin as it appears full, and people inside are already sleeping. Later in the evening, a few more tents appear around us.
Day 1: Qilai North and Main Peaks
06:21Depart.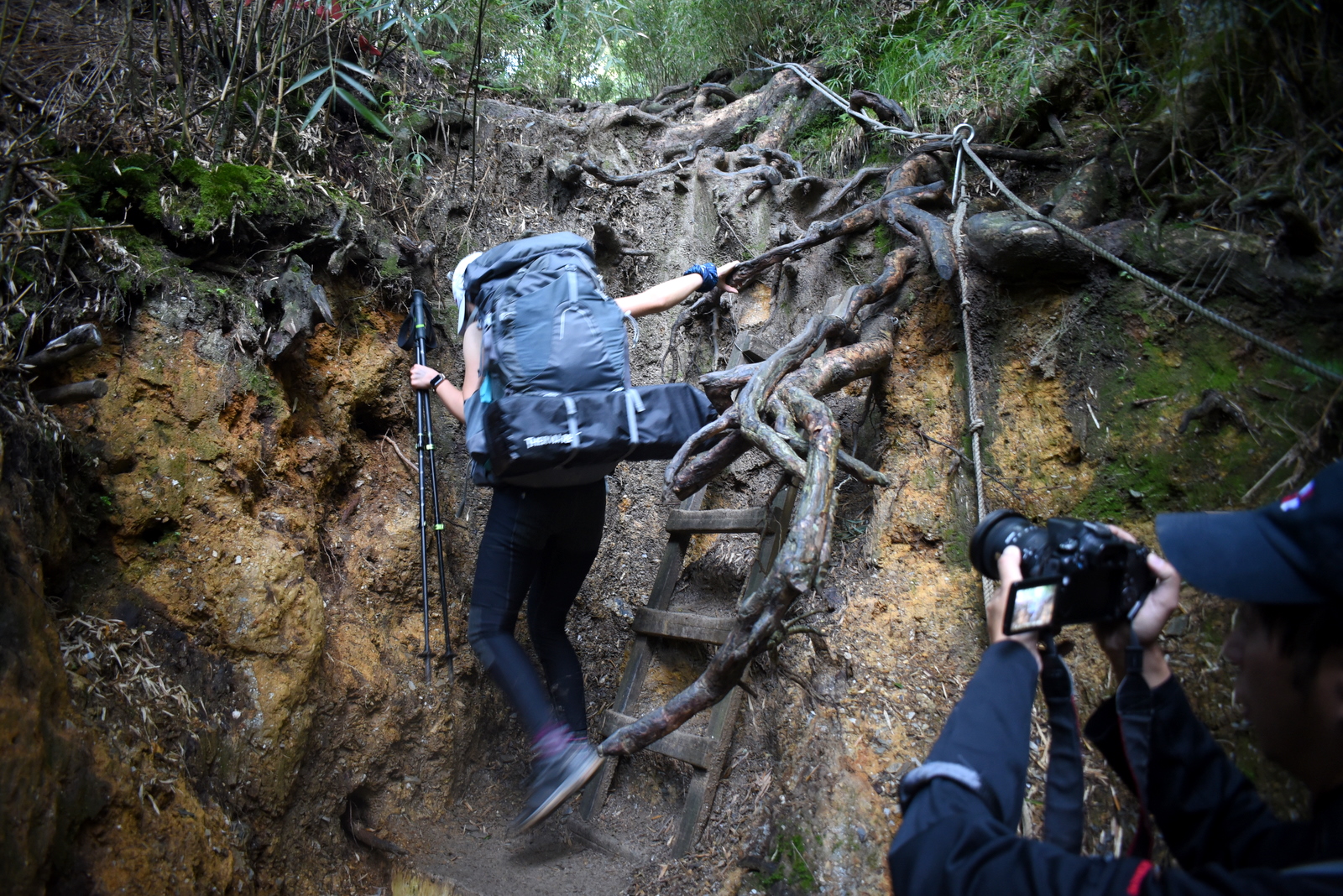 07:05Chenggong Cabin. We fill up water here. The alternative is finding water near the Mt. Qilai Cabin. There is a trail from that cabin down to a creek, and you have to go down the creek bed until you see water. Here there was plenty of water, so we decided to carry the water up and save the trouble later.
The main cabin here is quite spacious with a separate kitchen. Beyond it are several Chenggong Yurts. Decades ago, a group of hikers perished on this trail after encountering a typhoon. After the tragedy, the father of one of the hikers built a yurt here as refuge to others. More sophisticated cabins and huts followed, and more recently the yurts were refurbished with a soft floor.
08:22First junction: left to Mt. Qilai North Peak, right to Qilai Cabin. We go left.
09:11At the top of the ridge just before the second junction. We change into light packs to summit Mt. Qilai North Peak. We also take our wet gear from the previous night (there was fog) and lay it out on the grass to dry.
10:15We begin the scramble to Mt. Qilai North Peak.
10:40⛰️ Mt. Qilai North Peak, 3607 m #16. We spend 63 minutes at the summit.
11:43Start back down.
12:11Back at the second junction. We pack up our equipment and change back into the heavy packs.
12:38Qilai Cabin. The hut is small. There's an organized tour group here, and the guides have taken over one of the exits for cooking dinner. They ask us to use the other exit, which is less convenient. We eat our lunch. Meanwhile, the tour group's porters go down to fetch water. We wonder if they could fetch some for us (I brought enough bot Chaos didn't). They say sure but quote us NT$200 per kilo for the water. We pass.
13:54As there's still plenty of time left in the day, we depart for Mt. Qilai Main Peak, lightweight. But as we approach the peak, fog sets in.
15:06⛰️ Mt. Qilai Main Peak, 3560 m #20. No view due to the clouds, so we wait. At around 15:45, the clouds finally open up for a second.
Panda hiker is here with friends and a pride flag. Kind of cool to see.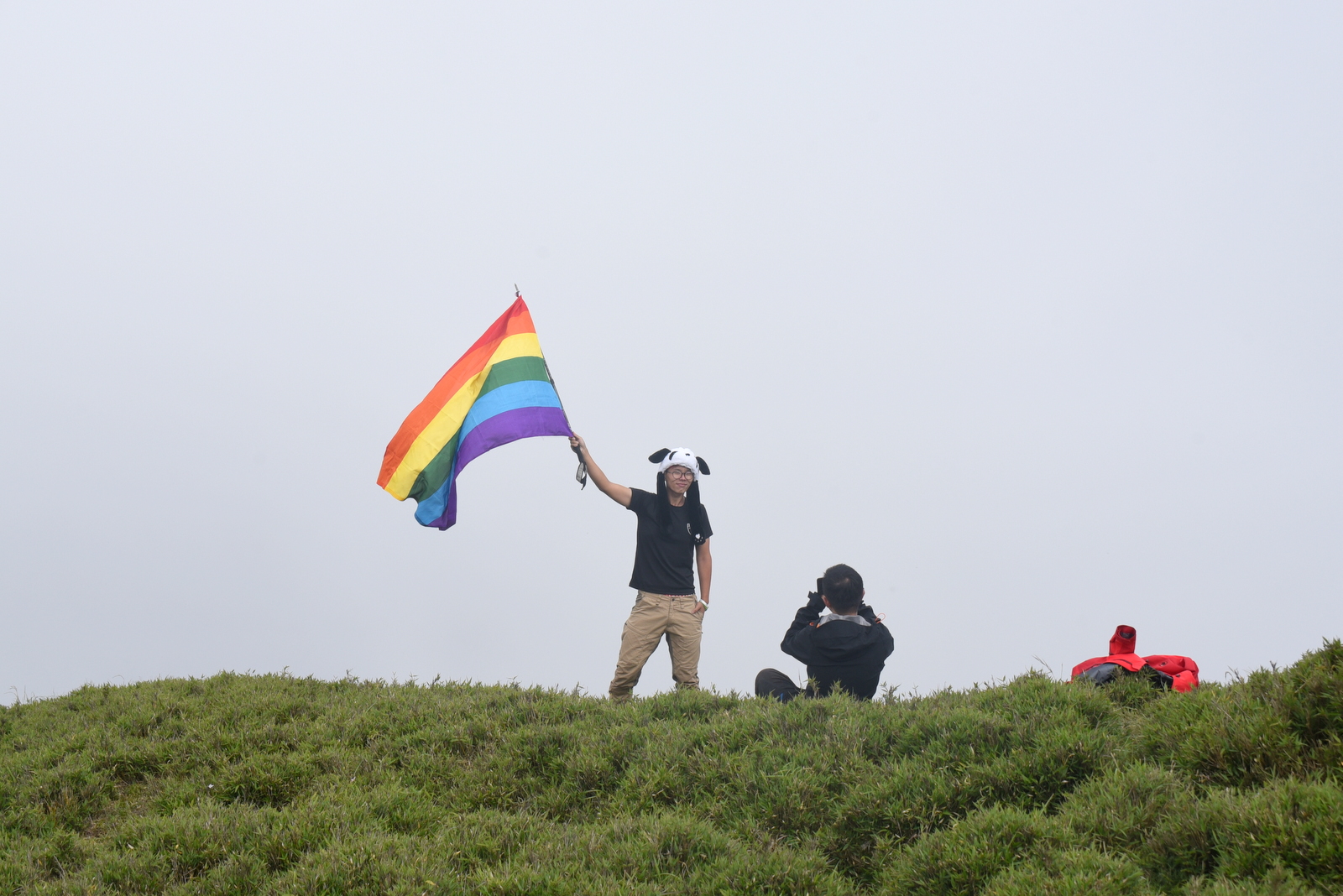 15:56We start back down.
16:07We pass a Taiwan serow really close!
17:07We return to Qilai Cabin. I guess it's easy to get lost even here, on the ridge, in the fog. In the evening I went out, saw some lights, and shone my headlamp just in case anyone was trying to get back to the hut. But the lights were just the panda group around their tents.
That evening the tour guides had food left over and offered some to us. Not water, though, only food - water is precious.
Day 2: Qilai Main Peak again
The previous day we discussed our possibilities for climbing Mt. Qilai Main Peak. We decided to go that afternoon, despite the possibility of clouds. If we don't get a view, we could come back the next morning. In the morning my teammates had second thoughts about going back to the main peak, but I was determined. So, we split up.
06:42I set off lightweight for Mt. Qilai Main Peak.
08:00⛰️ Mt. Qilai Main Peak, 3560 m #20. It was worth coming here a second time.
08:13Start back down.
09:15Return to Qilai Cabin. Repack and depart 20 minutes later. I move quickly, determined to not make my teammates wait too long.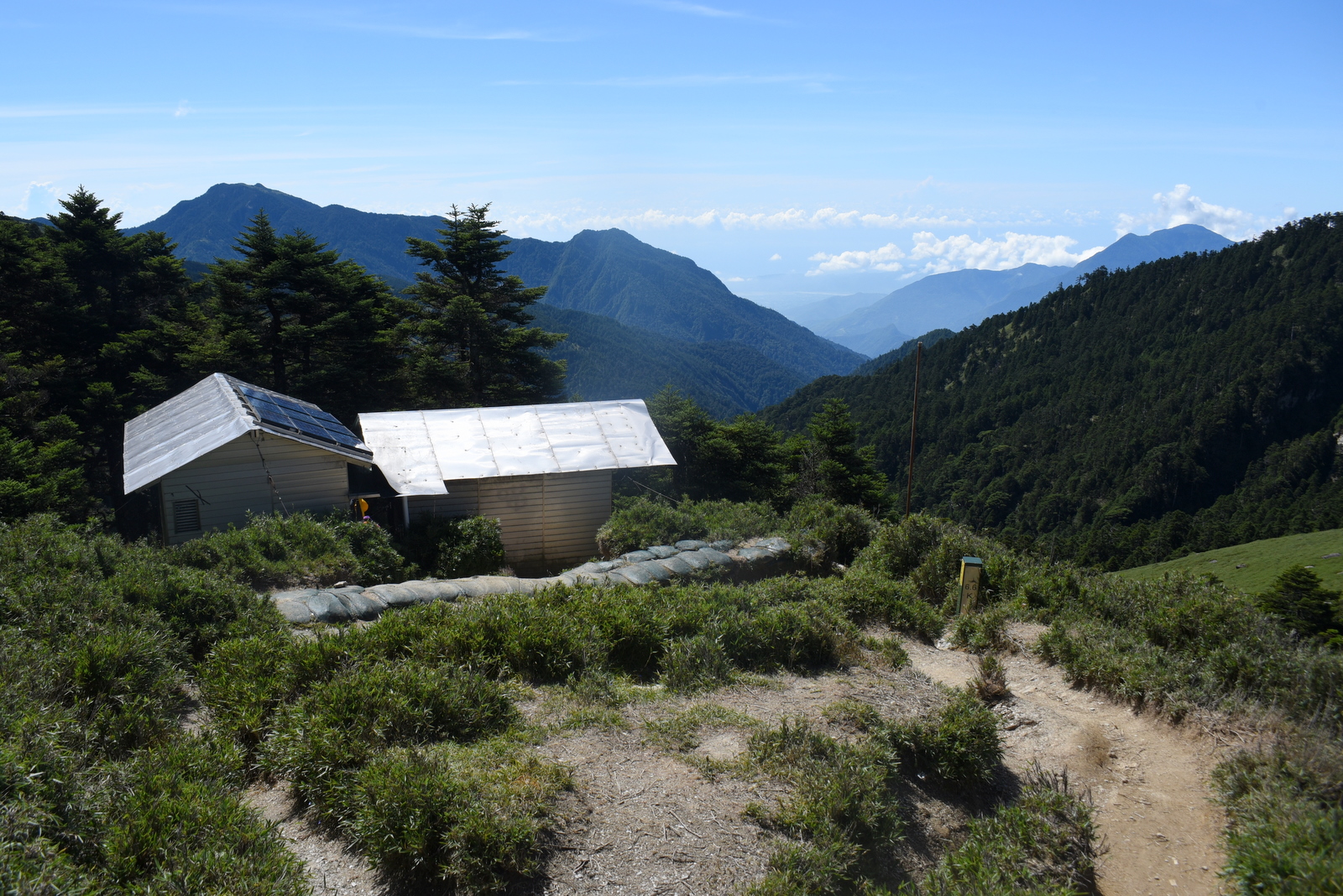 10:28Chenggong Cabin.
10:55Black Pond Cabin. The trail starts climbing here, but I still maintain a light jog uphill.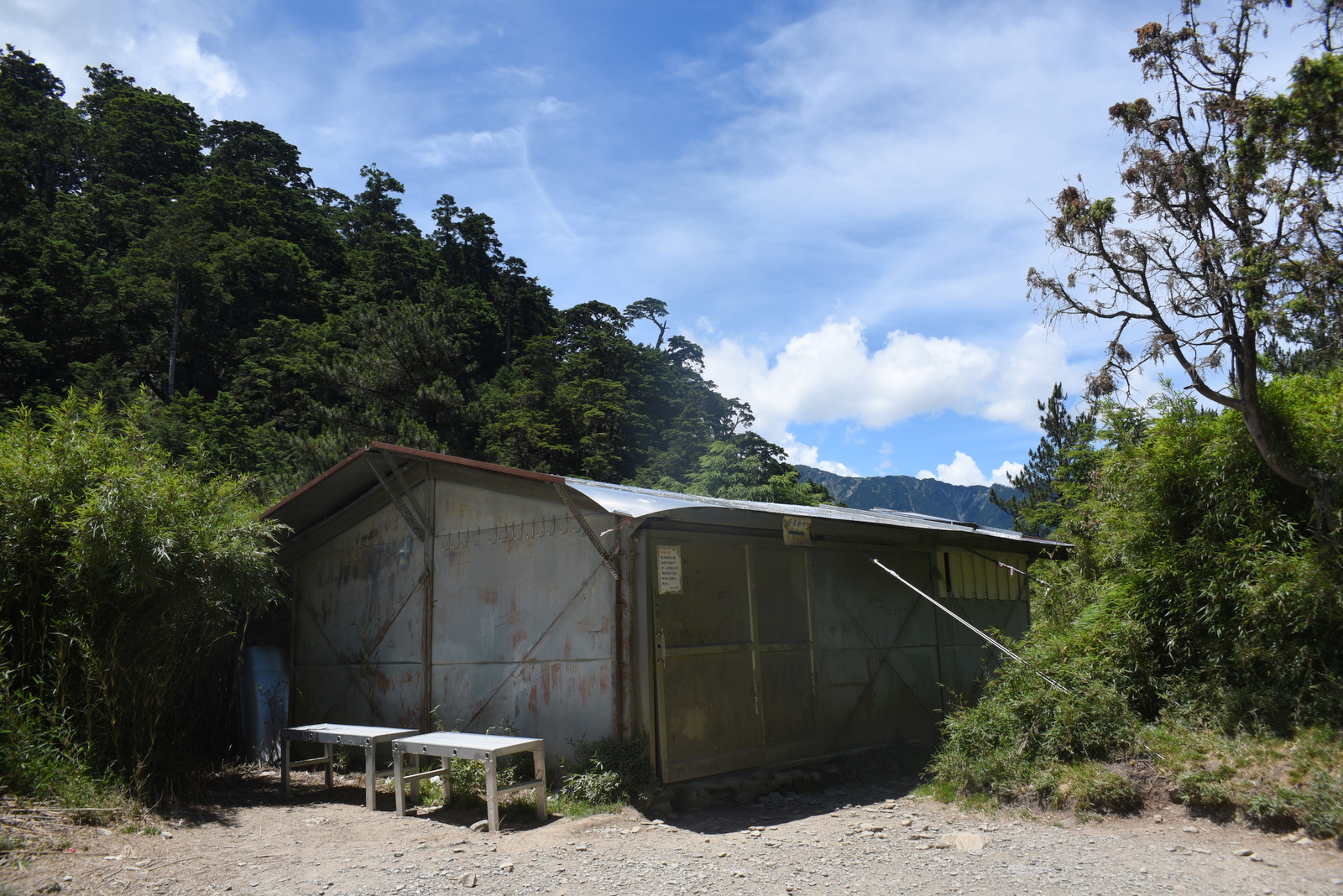 11:53⛰️ Mt. Little Qilai, 3152 m.
12:21Back at the trailhead. My teammates arrived just 30 minutes prior and were waiting for me at the 3108 Cafe across the road. I was really hungry after my work-out. On the way back we stopped at Wushe for dinner and shared a whole chicken.