Four Graces of Wuling
May
4 - 5
2020
The Four Graces of Wuling were my first solo trek in Taiwan in 2020. It's not my first solo high-mountain trek in Taiwan overall, but it's the first recent one, and the first when I had to do the entire preparation for a trek, like figuring out my meals. This was challenging, but the hike was a success.
Overall, the hike is relatively straightforward, and the views are great.
Permits
The park entry permit is applied through the Shei-Pa National Park application portal. A mountain entry permit is not required. For planning your application, start with the itinerary below. Note that the English names used in the itinerary are taken from the application system and are not the same as the names used in the rest of this guide.
Suggested itinerary
Day 1
(490 min) Trailhead of Wuling Quadruple Mountains Trail → Trailhead of Tao Mountain → Tao Mountain → Taoshan Hut
Day 2
(550 min) Taoshan Hut → Tao Mountain → Shilun Mountain → Kalahei Mountain → Shilun Mountain → Tao Mountain → Taoshan Hut → Sancha Campground → Chiyou Mountain → Xinda Hut
Day 3
(635 min) Xinda Hut → Pintian Mountain → Xinda Hut → Chiyou Mountain → Sancha Campground → Trailhead of Chiyou Mountain → Trailhead of Wuling Quadruple Mountains Trail
The park entry application will reserve your bunks in the Mt. Peach Hut and Xinda Hut, or the campgrounds if the cabin space is already full. Note that the Mt. Peach Hut has no water source beside the rainwater tanks, so you may have to carry water up all the way on day 1. In this sense, the reverse direction may be easier as then you'll only have to carry water from Xinda Hut (where water can be drawn from the surrounding ponds as well as a creek a few hundred meters down to the north) to Mt. Peach Hut.
Variations
There are lots of ways to shorten this hike. For example, a day trip to Mt. Chiyou, or a day trip to Mt. Peach. Some people skip Mt. Kalahei because they don't consider the trail or the mountain worth the effort. Some people skip Mt. Pintian because the trail there is a bit more technical, involving traversing the Pintian Cliff. However if you're prepared for it, it's absolutely worth it.
A friend of mine suggested the following itinerary: on the first day go up to Mt. Peach and Mt. Kalahei, then come down and spend the night at the Wuling Villa. On the second day, go up to Mt. Chiyou and Mt. Pintian, then come down. It's a way to visit all four peaks, but spend the night in luxury and not carry a heavy backpack up the mountain.
Transportation
There are three buses each day in each direction serving Wuling Farm. Two buses depart in the morning from Yilan and Luodong, and one afternoon from Yilan.
| | | | | | | | |
| --- | --- | --- | --- | --- | --- | --- | --- |
| | Yilan | Luodong | Shengguang | Wuling Farm | Huanshan | Zhongxing St. | Lishan |
| Kuo-Kuang #1764 | | 07:00 | 09:12 | 09:25 | 09:43 | 09:51 | 10:05 |
| Kuo-Kuang #1751 | 07:30 | | 09:50 | 10:04 | 10:27 | 10:37 | 10:50 |
| Kuo-Kuang #1751 | 12:40 | | 15:03 | 15:19 | 15:42 | 15:53 | 16:06 |
In the other direction, three buses depart from Lishan.
| | | | | | | | |
| --- | --- | --- | --- | --- | --- | --- | --- |
| | Lishan | Zhongxing St. | Huanshan | Wuling Farm | Shengguang | Luodong | Yilan |
| Kuo-Kuang #1751 | 08:30 | 08:47 | 08:56 | 09:18 | 09:33 | | 12:00 |
| Kuo-Kuang #1764 | 13:00 | 13:17 | 13:26 | 13:49 | 14:03 | 16:17 | |
| Kuo-Kuang #1751 | 13:30 | 13:47 | 13:56 | 14:18 | 14:33 | | 17:00 |
The bus to Wuling Farm stops at the ticket booth where you have to pay the entrance fee if alighting at Wuling Farm. It then drops you off at the visitor center. There is no bus from the visitor center to Wuling Villa, where the trail begins. That's another 5 km walk. Consider hitchhiking.
Given the bus situation, the final day is going to be a bit rushed, if you want to catch the bus. You may want to start the hike earlier, especially if you're slow at downhills. Alternatively, book a night at Wuling Villa for after the hike.
Day 1: Mt. Peach
I left my place aroud 5 AM, had breakfast, then caught an early bus to Luodong. Here's the food I packed the previous evening: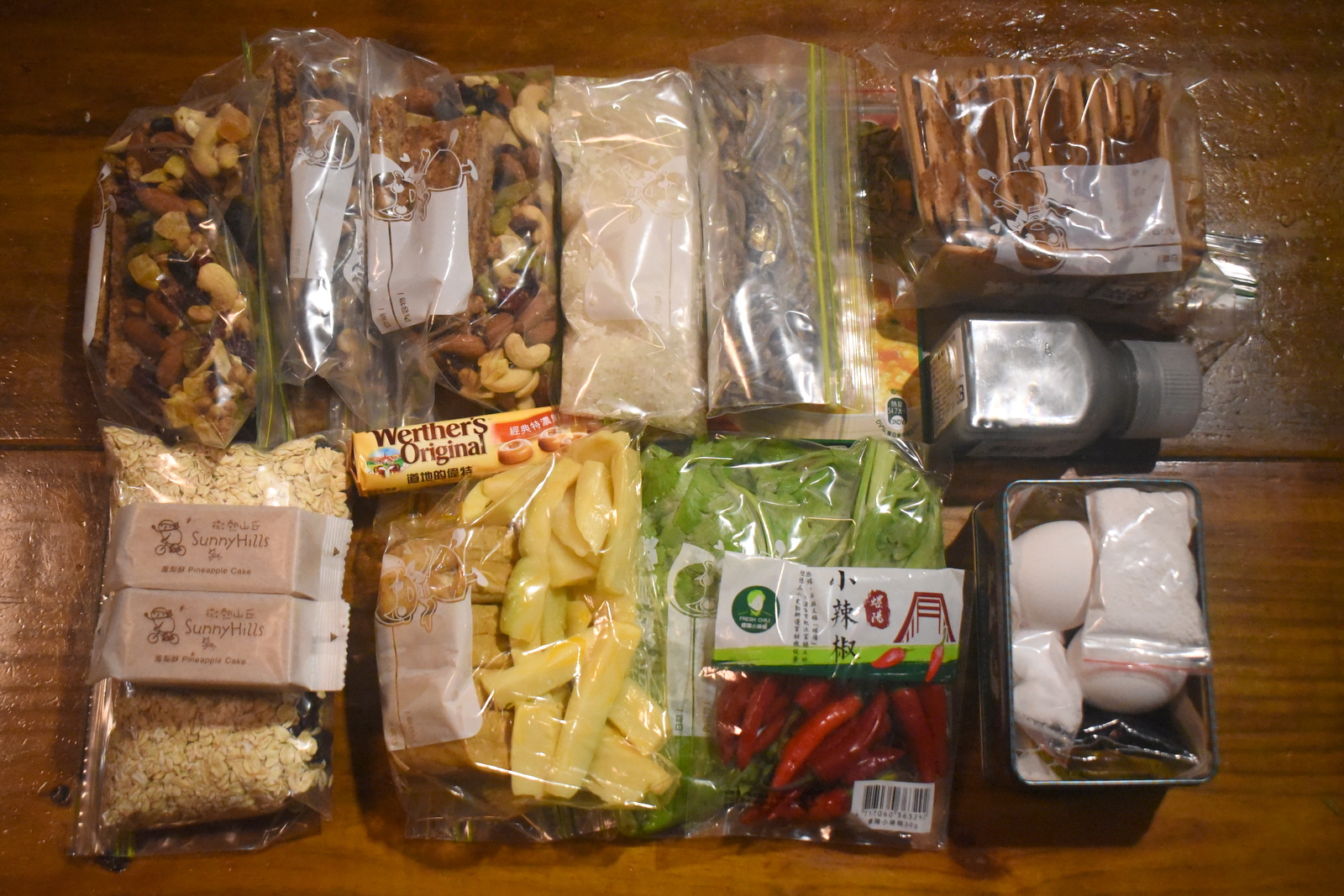 05:55Board Kamalan bus 1917 at MRT Technology Building Station for Luodong (ticket must be purchased at the adjacent ticket office). Trip takes around an hour, so the connection would be really close. A better alternative would be an earlier bus to Luodong or the 06:00 bus to Yilan.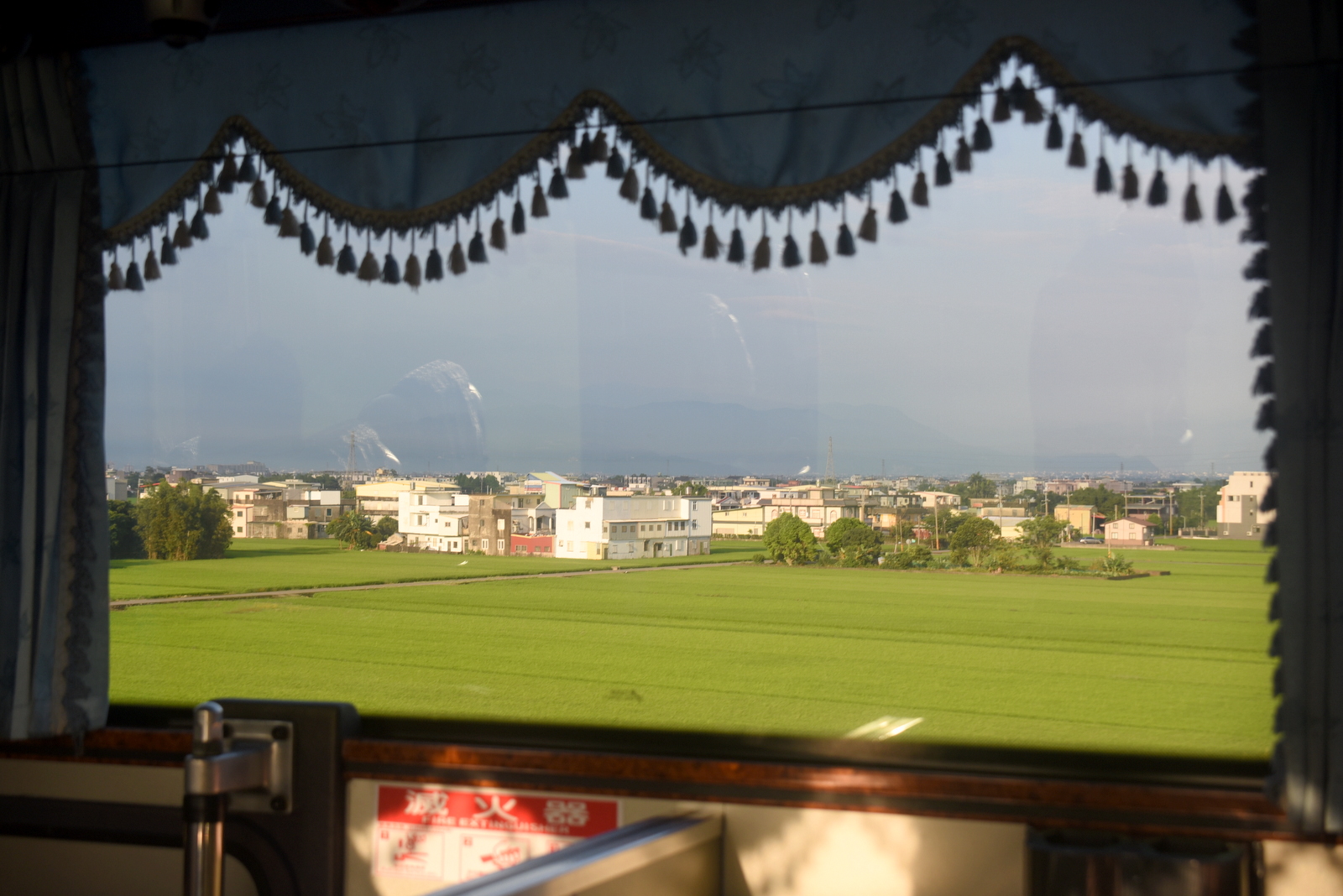 07:00Board Kuo-Kuang bus 1764 at Luodong Bus Station for Lishan (can pay with transit card).
08:35The bus makes a 10-minute rest stop at Nanshan where you can alight and stretch, or use the restroom / buy food or other essentials at the FamilyMart.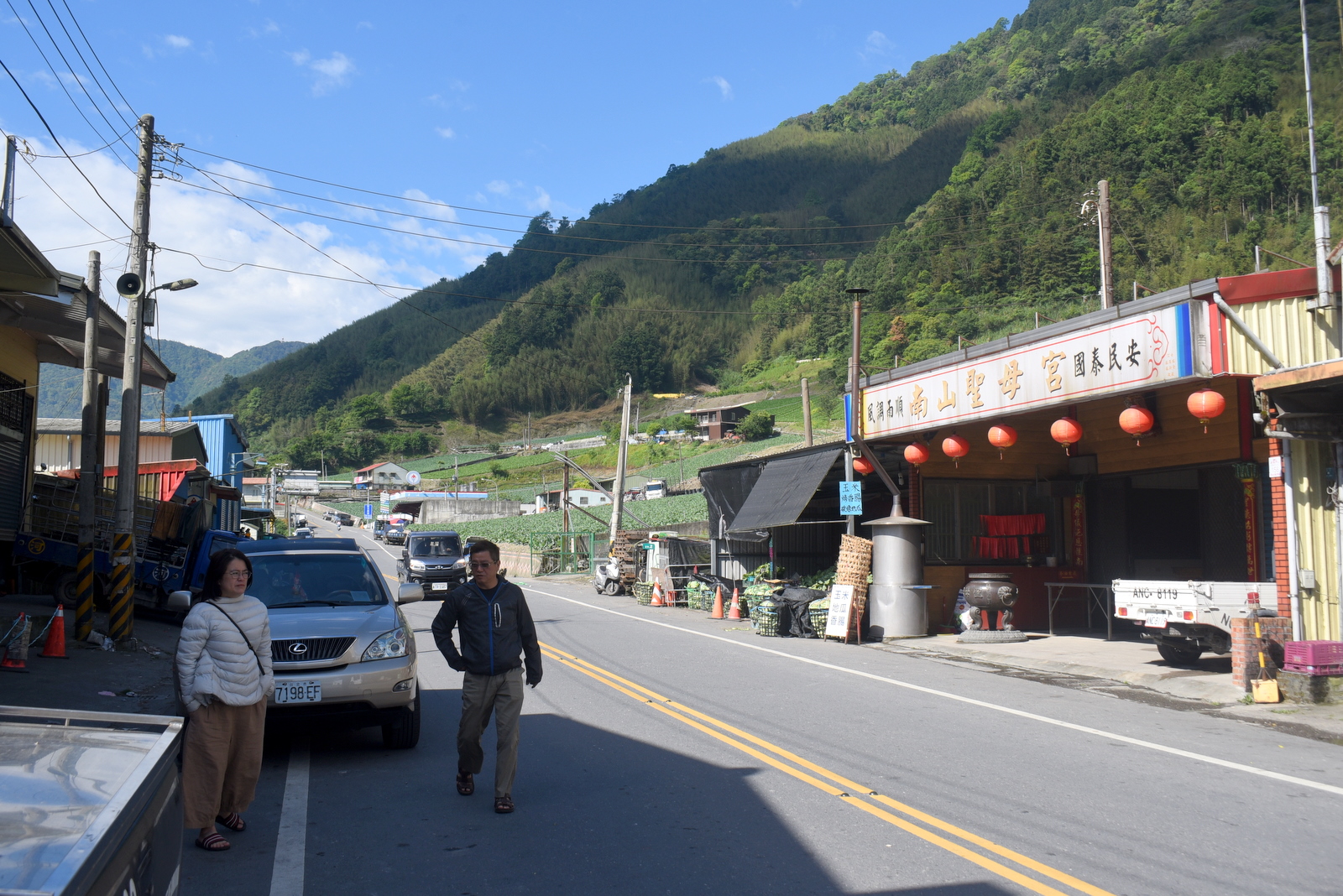 09:30Arrive Wuling Farm. The visitor center has a small store that stocks instant noodles and some hiking essentials. I realize I don't have spare batteries for my headlamp and buy some here.
09:55I arrive at the police station to file a mountain permit, but it turns out I don't need one.
10:20Fish-viewing platform. Qijiawan River, which runs through Wuling Farm, is a refuge for the critically endangered Formosan landlocked salmon (Oncorhynchus masou formosanus).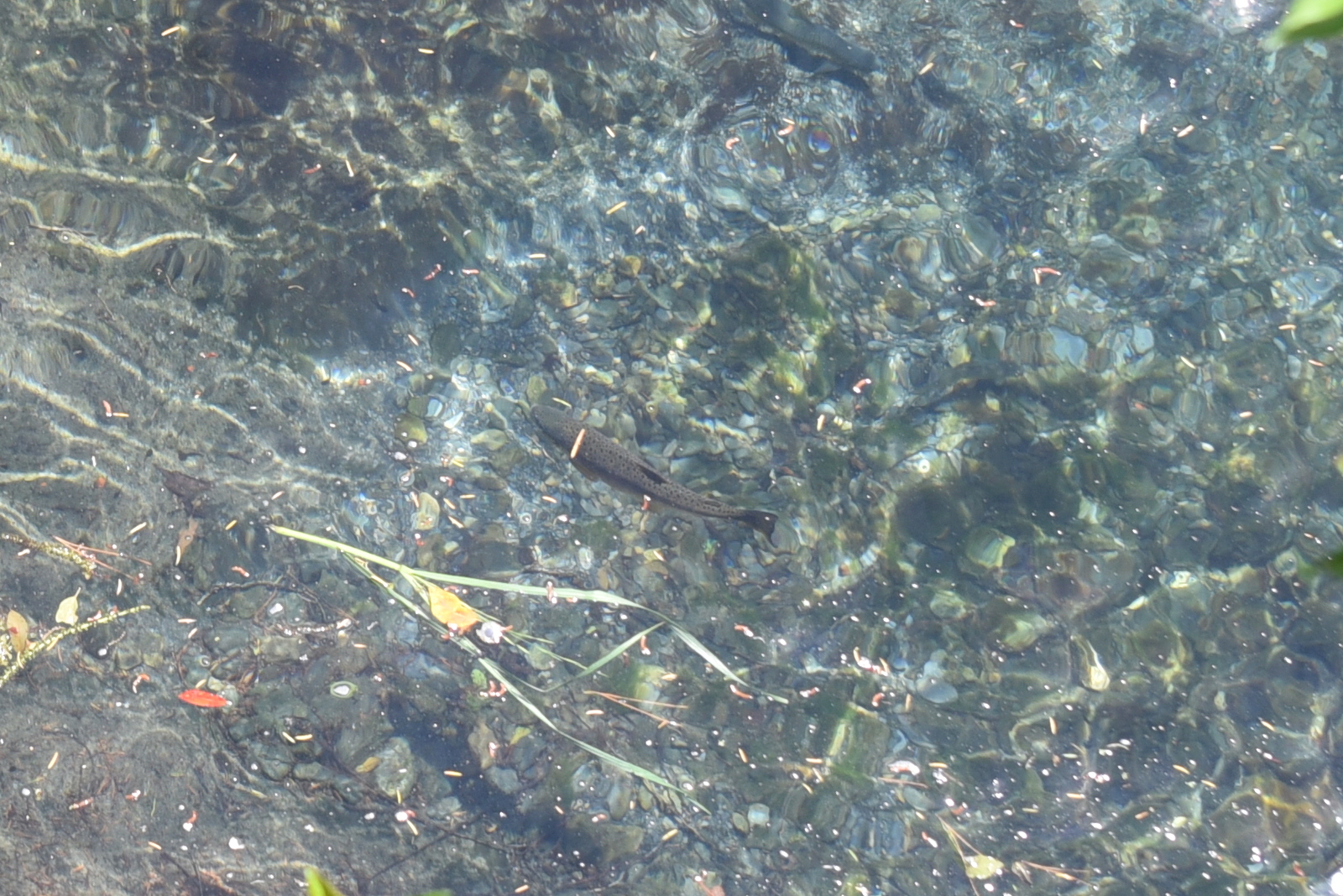 Further up the road, I pass by some macaques.
11:00Arrive Wuling Villa and rest for 30 minutes.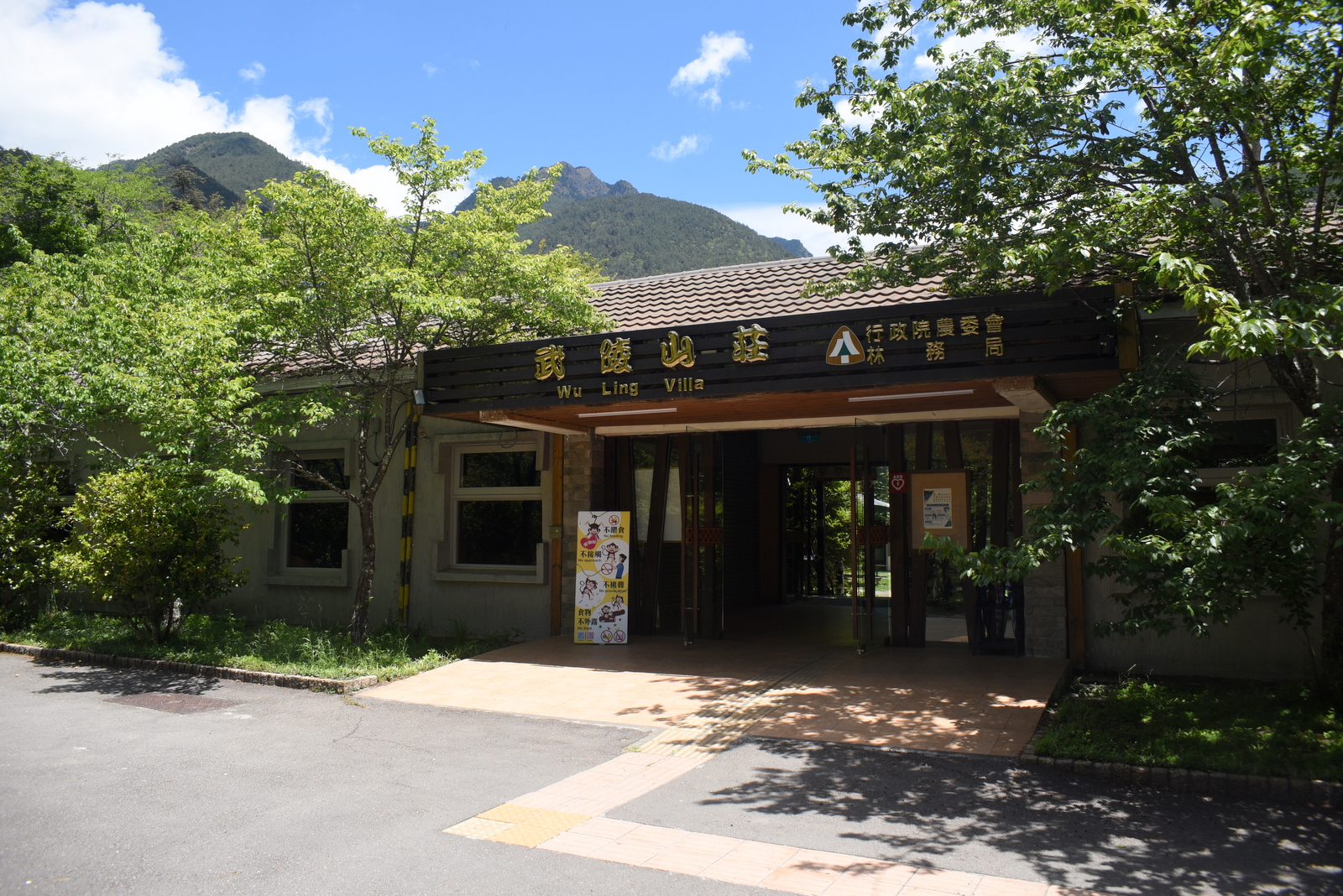 11:30Start the hike, crossing the Wuling Suspension Bridge. Before the bridge, though, there's a mailbox where you have to deposit your park entry permit. Park staff ask that you write on the permit the day / time and that you're entering the trail. If something happens to you, they may look for your permit in the mailbox. On the way down, you're supposed to stick the second copy of the permit in the same box, with a comment of the exit day / time and that you're exiting the trail.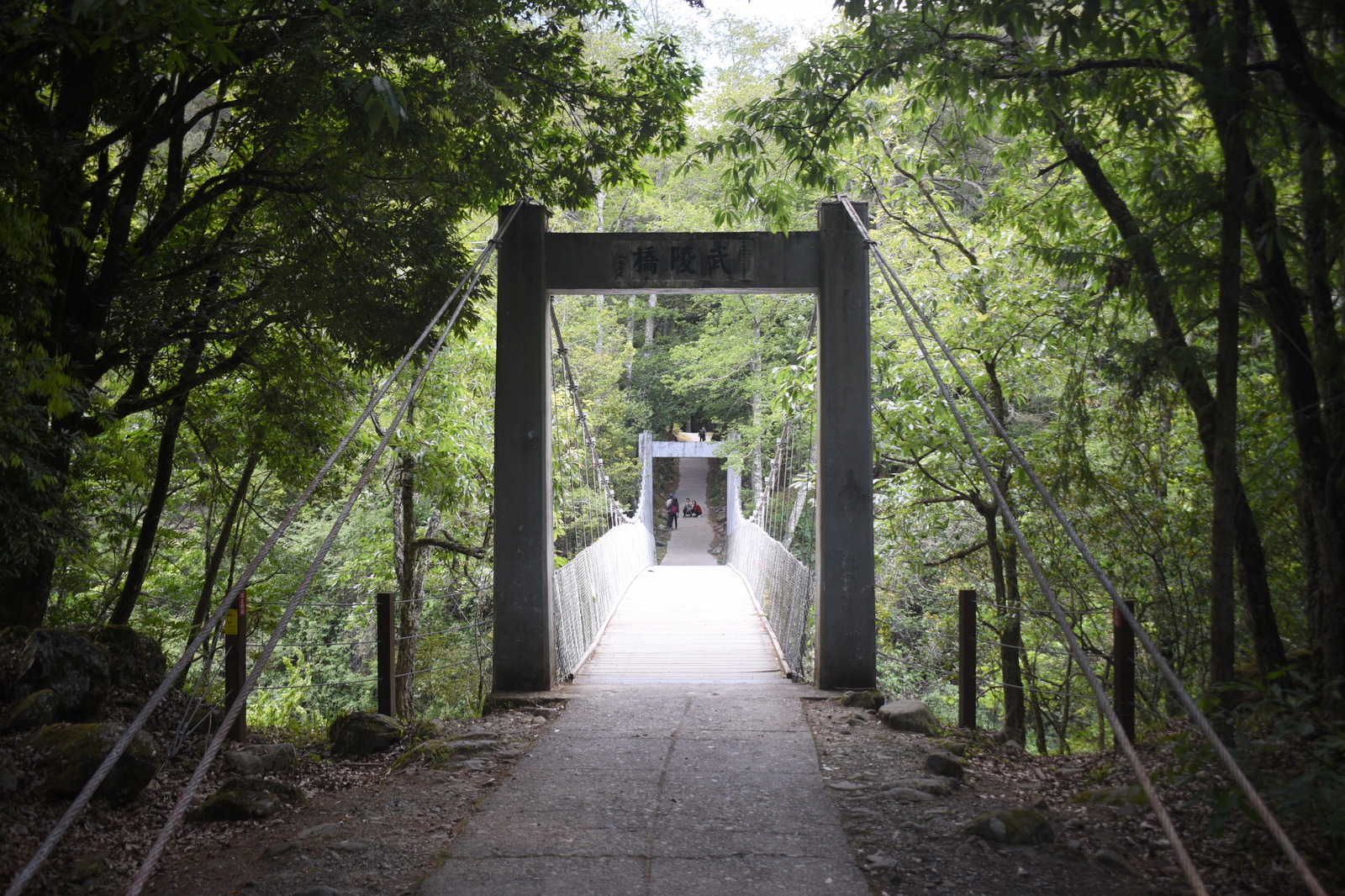 12:00Mt. Peach trailhead. The paved path continues straight, with the trail junction to the right and a bench on the opposite side. I rest here for 15 minutes.
12:20Trail passes near the confluence of Peach Creek and Shilun Creek. There is a picturesque waterfall here. More importantly, this is the last water source before Mt. Peach, which I hear has no water. I fill up 3 L here, which brings up my pack weight to over 20 kg.
13:451 km. Rest for a bit.
14:302 km. Rest for a bit. Actually, I recommend resting at 2.1 km, where there is a bench.
15:05Muddy pond. Rest for a bit more. You can see this was a long and tiring climb.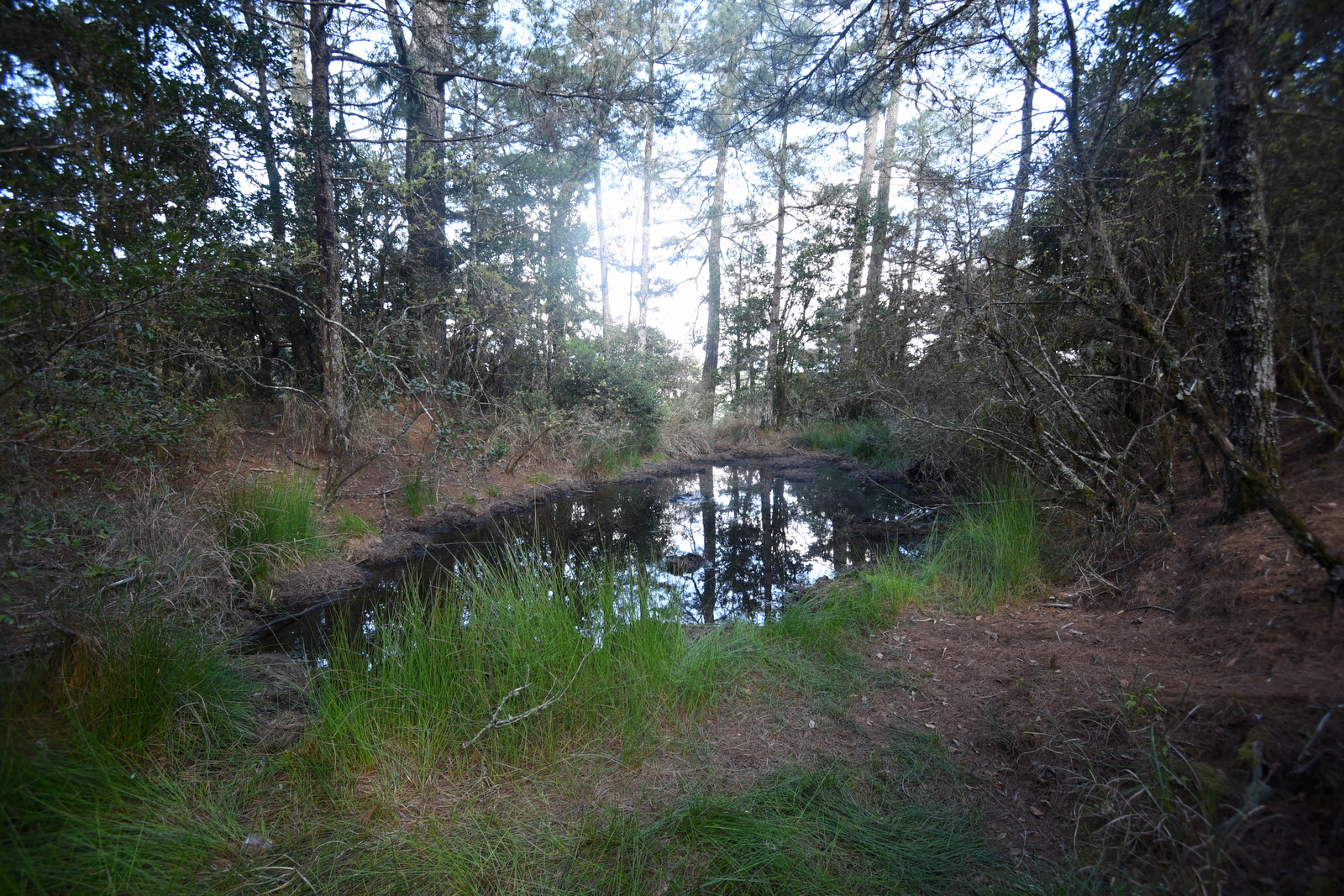 15:35Helipad.
16:00The forest opens up here.
17:153.8K viewpoint. Soon past the viewpoint, the peak of Mt. Peach becomes visible.
17:55⛰️ Mt. Peach (3325 m) #48. I wait here until sunset, which is especially beautiful. There is a photographer on the mountain - he does the same.
18:20I start down toward the hut, which is very close to the summit.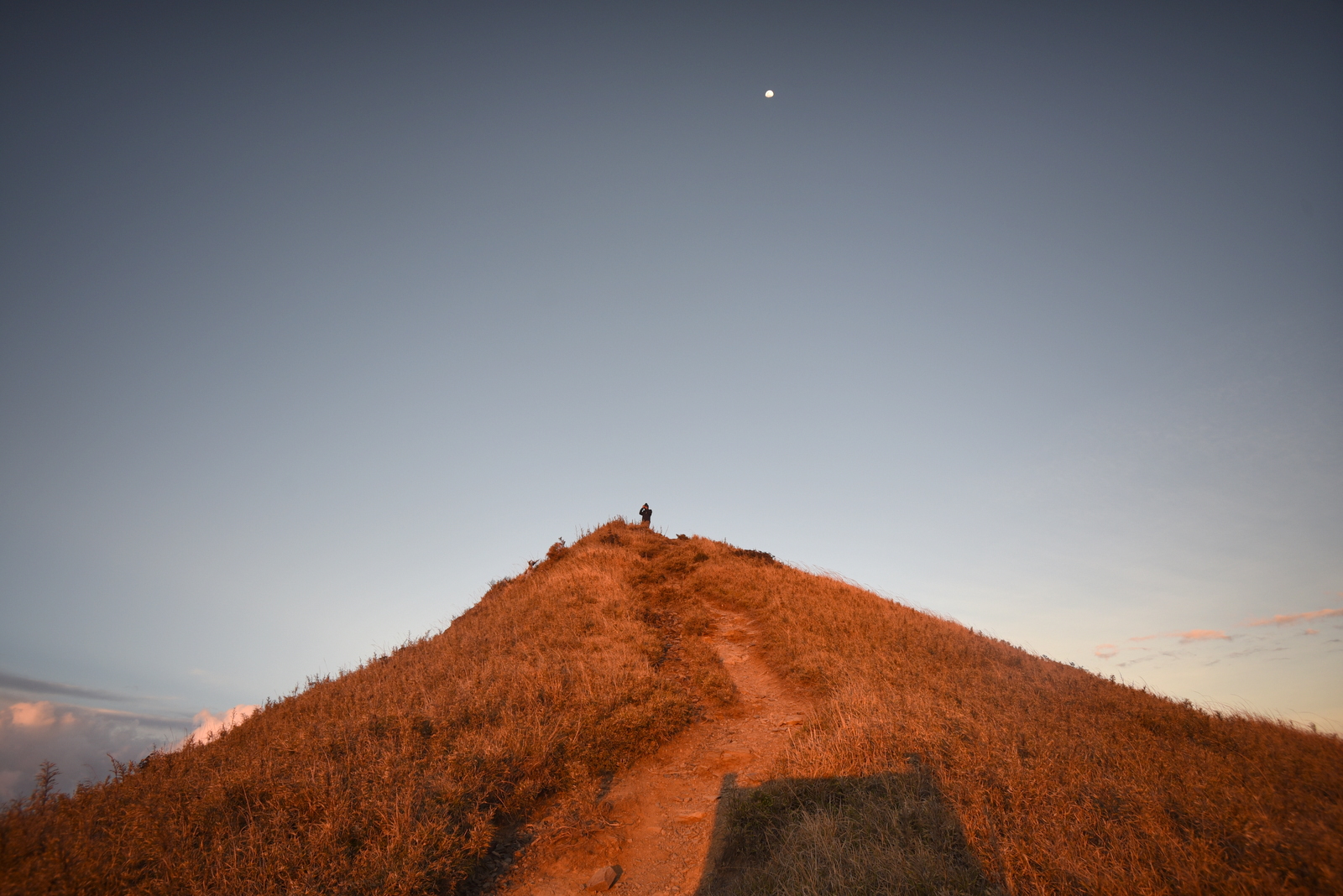 18:30Arrive Mt. Peach Hut.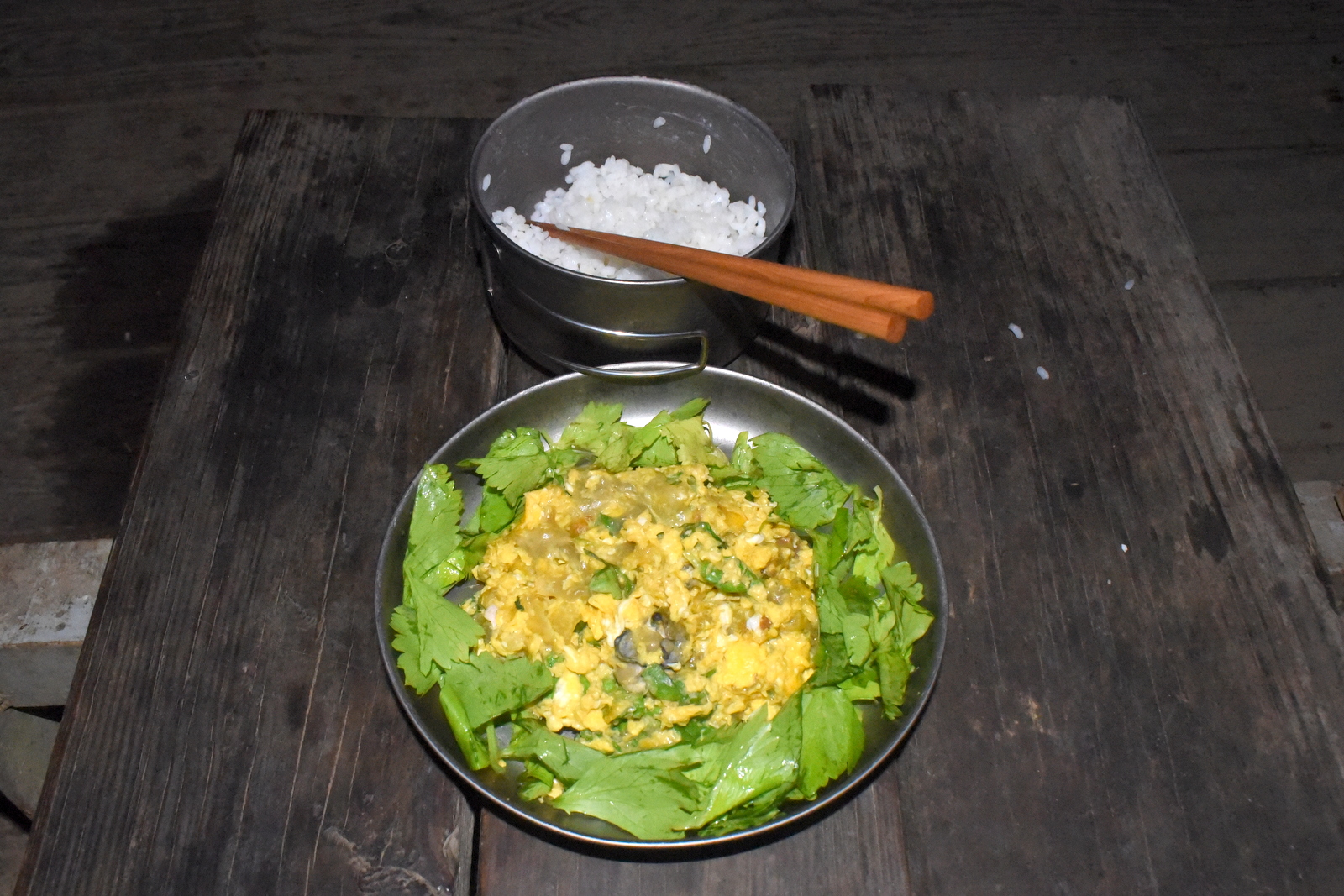 Day 2: Kalahei and Pintian
04:50I wake up early to catch the sunrise at Mt. Peach. The sunrise is at 05:14.
05:35Back at the hut for breakfast.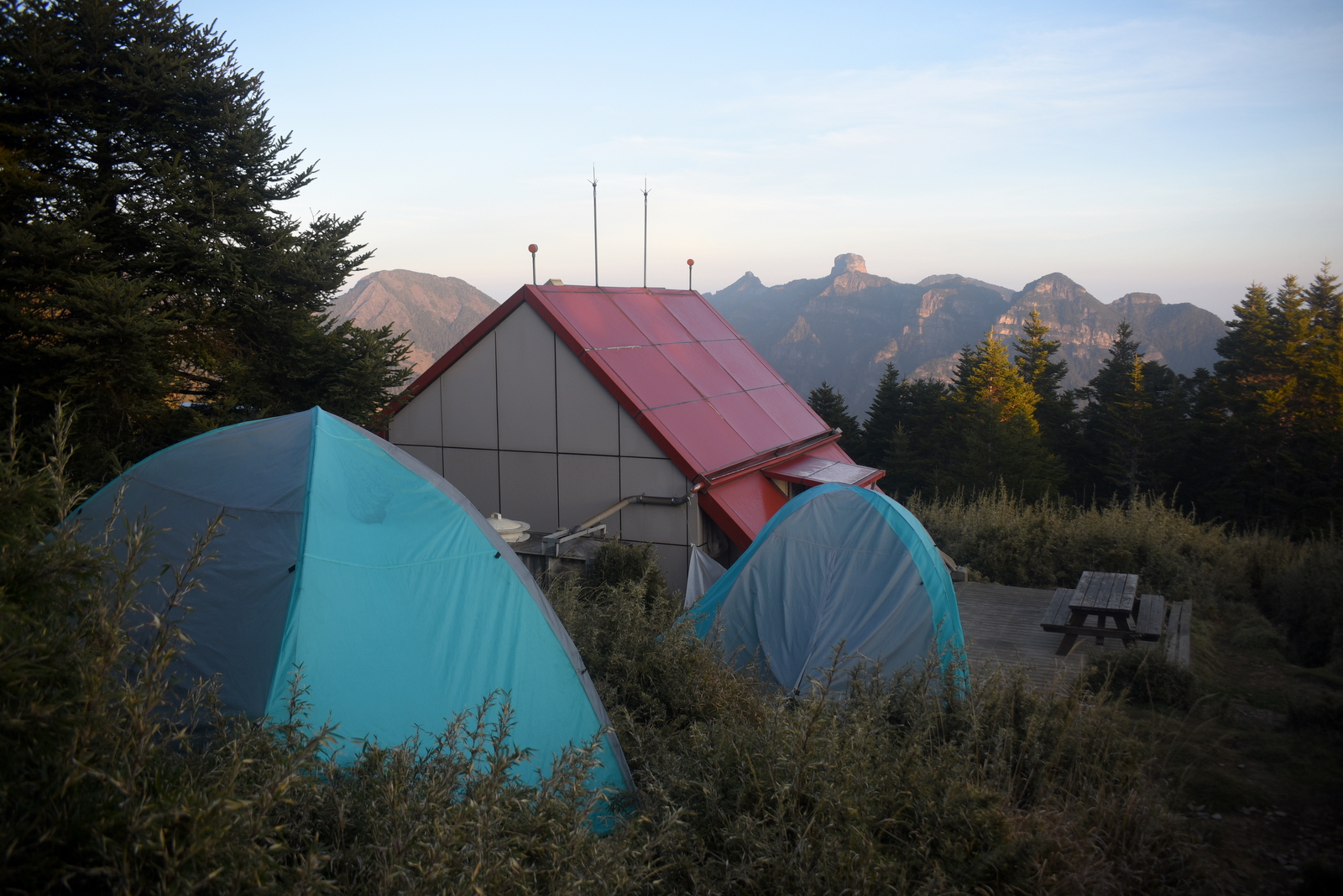 06:55Depart for Mt. Kalahei lightweight. Because this was my first trek in Taiwan, I haven't yet bought a lot of lightweight gear. So, even though I unload some things from the pack, the 5.11 Rush 72 still weighs 2 kg. Not so light.
07:05Mt. Peach again.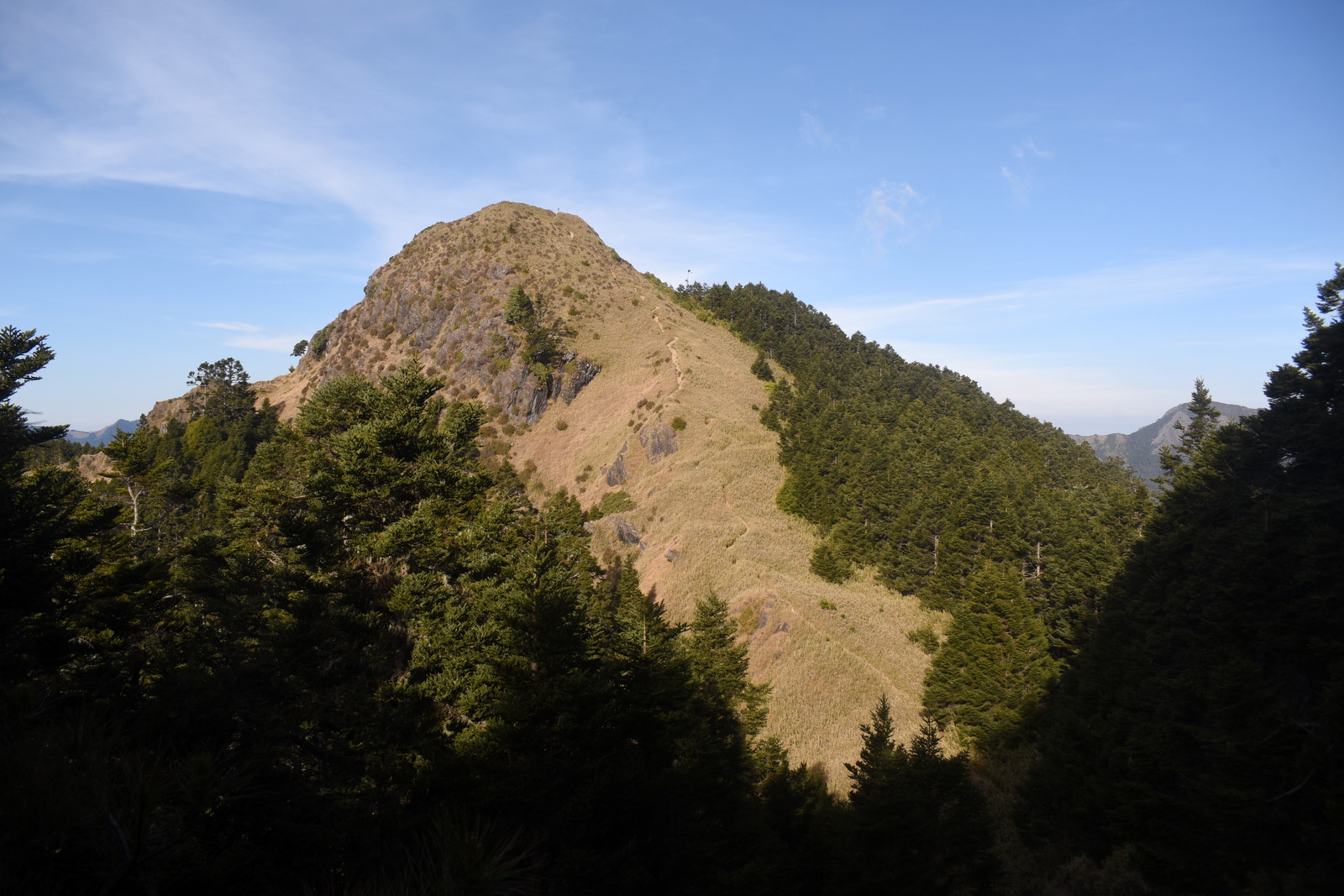 07:30The trail enters mixed bamboo and pine forest.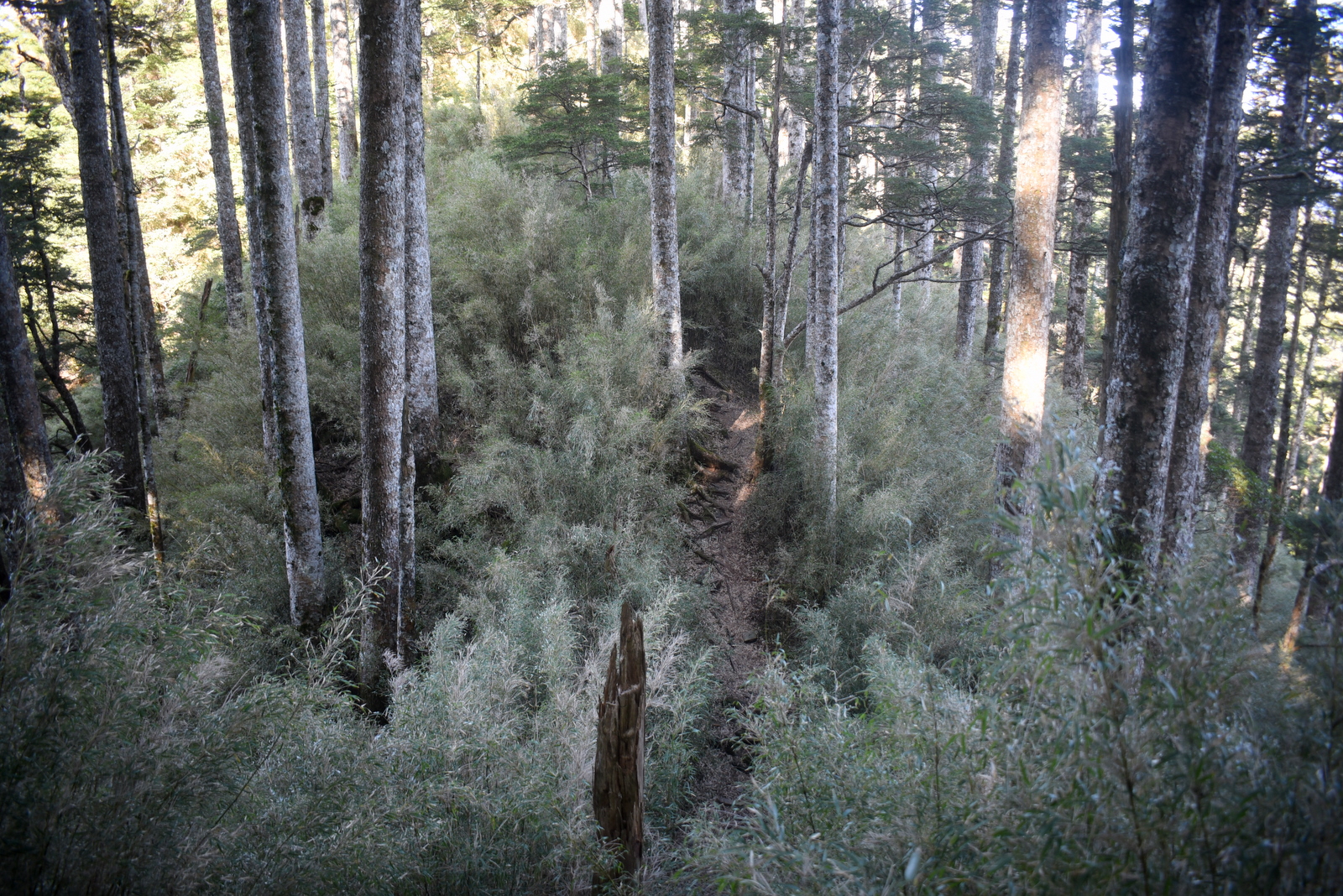 08:10⛰️ Mt. Shilun (3194 m). The best thing about this peak is the picturesque tree.
08:25Past the peak, the trail enters a field of bamboo and Mt. Kalahei is visible.
09:00⛰️ Mt. Kalahei (3133 m) #84.
09:15Start back to the hut.
09:50Back at Mt. Shilun.
10:30Get off the trail accidentally and step in someone's shit. People are supposed to go further away from the trail and bury their shit. Spend a few minutes scrubbing it off the sole of my shoe.
11:00Fourth time at the top of Mt. Peach. The photographer I saw the previous night and this morning is still there.
11:10Back at Mt. Peach Hut to repack. Find out that someone took my water. Decide they need it more than I, as I'll be at Xinda soon, while they have to spend a night at this hut.
11:20Depart.
13:15Fork with the Chiyou trail. There's a campground here. It's close to the Chiyou trailhead. However, it's getting cloudy, so I decide to put off Mt. Chiyou for the next day.
13:52Chiyou Tree (it's famous).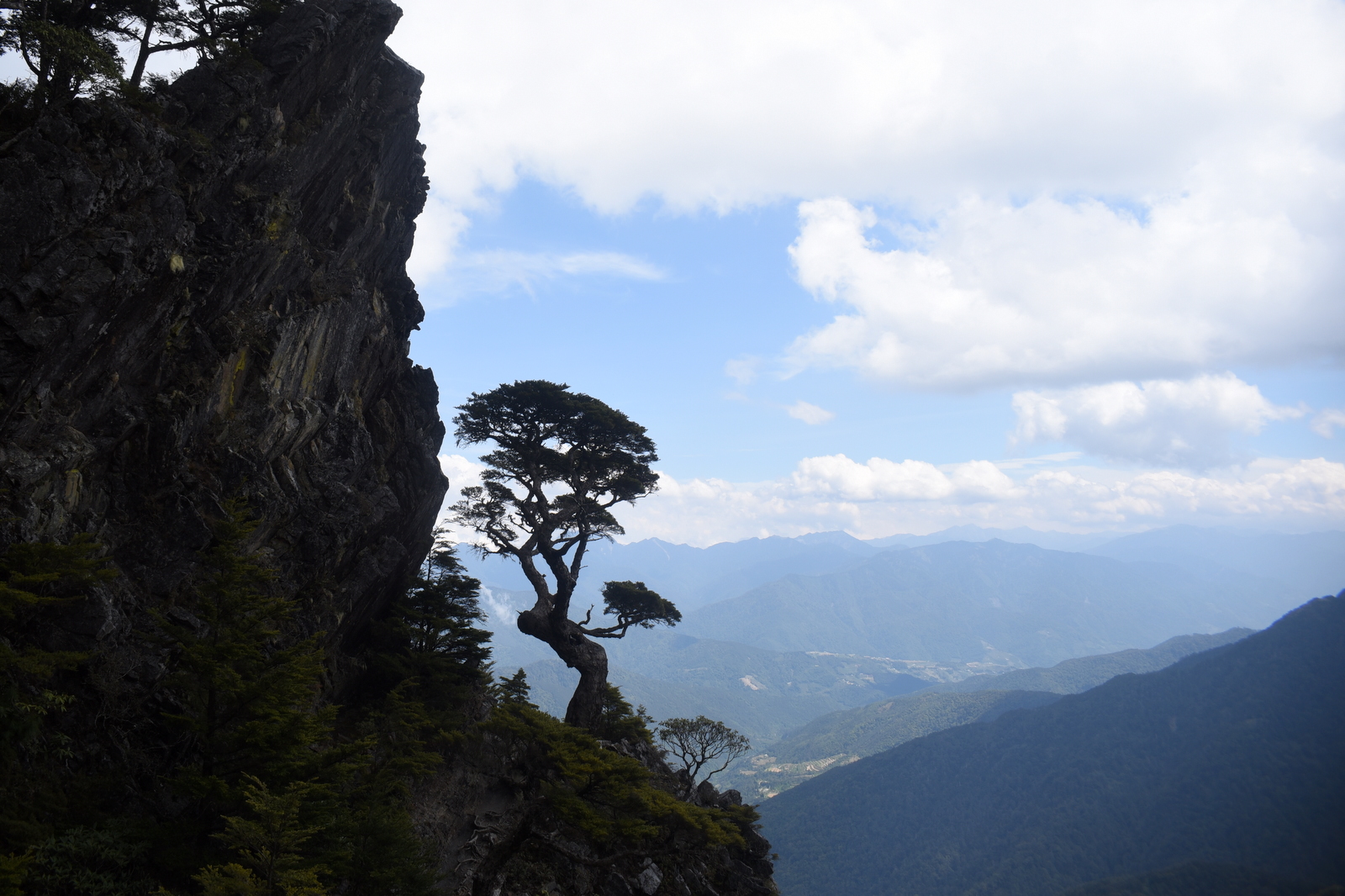 14:10Hollow tree.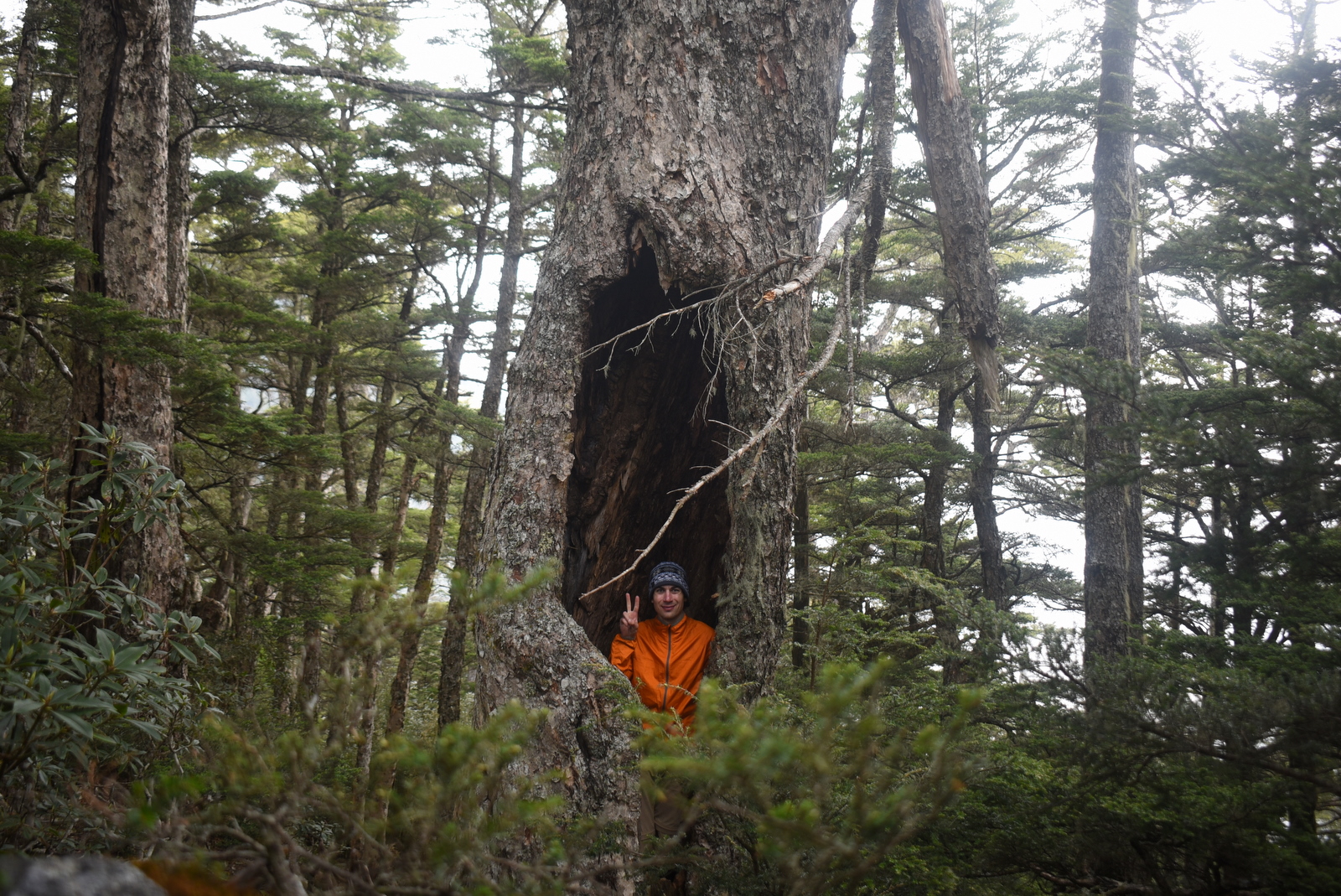 14:25Xinda Hut. I'm ahead of schedule, so I drop off my things here and relax, taking pictures of birds.
15:15Depart lightweight for Mt. Pintian.
16:00Pintian Cliff. Rest for 15 minutes before climbing down the cliff. It's actually not difficult, and there are ropes the entire way.
16:45⛰️ Mt. Pintian (3524 m) #24, rest for 25 minutes. Sadly, it is cloudy, and I don't get a 360-degree view from the peak. People who summited the following morning got a much better view. However, I wanted my last day to be short in order to make sure I catch the bus.
17:10Depart.
17:58Arrive Xinda Hut.
Day 3: Chiyou
06:00Depart Xinda Hut.
06:43Trail to Mt. Chiyou, where I drop my pack and climb up. There are actually two trails up to Mt. Chiyou - I take the shorter one.
06:52⛰️ Mt. Chiyou (3303 m) #52. My camera died here, which is why I don't have any more pictures. Fortunately, the best parts of the hike are behind.
07:28Fork with the Chiyou trail. Proceed down the trail.
08:102K, where you can grab a tree branch, hang from it, and stretch your arms.
At 1.2K I meet some people who are on their way up but have no clue about water conditions. I give them my water bags, as they have none, and therefore have no way of carrying water to the Mt. Peach Hut.
09:13Chiyou trailhead. As I have plenty of time, I put my pack down and go see Peach Creek Falls. While I saw few people during the hike, this part was crowded. You don't need a permit to hike to Peach Creek Falls, and it's a popular day hike destination for visitors to Wuling Farm.
10:15Wuling Suspension Bridge, mailbox for permits, Wuling Villa.
At Wuling Villa, a macaque was attacking people and trying to steal their food or trash. It was amusing to watch, although at one point it almost snatched my trash bag out of my hand. (I quickly deposited it into the macaque-proof trash bin.) I then got a ride to the visitor center with someone I met on the trail. There were still over two hours to kill, so I went upstairs to the restaurant for lunch and tea before boarding the return bus.