Green and Sheephead Mountains
Jul
11 - 12
2020
Green and Sheephead Mountains are located in Taroko National Park to the north of the Central Cross-Island Highway. They are the "less-spicy" and "medium-spicy" peaks of the "Hot Four", referring to the steepness of the ascent. However, this doesn't mean that the ascents are the most challenging in Taiwan. Rather, the "Hot Four" are limited to mountains that can be (or, could be in the past) summited in one day.
Indeed, both of these peaks make for a nice, challenging day hike, but doing them together is more fun. The through hike up Green Mountain and down Sheephead Mountain traverses the Sawtooth Ridge in the middle which has picturesque scenery and views.
Permits
Permits are not required for this hike.
Suggested itinerary and transportation
The through hike is doable by bus in two days. To get to the Green Mountain trailhead, take bus 1141 from Hualien Train Station to Dayuling junction. The bus departs Hualien Train Station at 08:40 and takes about 4 hours to get to Dayuling. After alighting, cross the Dayuling tunnel, and the trailhead will be on the right. The return bus departs Lishan at 14:50 and takes about 4 hours to make the return trip. The Sheephead Mountain trailhead is served by the Ci'en stop - the bus will arrive there some time after 14:50. Thus you will have half a day on day 1 and plenty of time on day 2.
Suggested itinerary
Day 1
(200 min) Dayuling → 8.4K Campground
Day 2
(805 min) 8.4K Campground → Green Mountain → Green Mountain Campground → Sawtooth Ridge → Saddle Junction → Sheephead Mountain → Saddle Junction → Sheephead Mountain Trailhead
This itinerary assumes you start walking at night. To be honest, it's still a bit tight. If you're fast, it shouldn't be a problem, but if not, consider splitting Day 2 into two days. There are plenty of nice camping spaces past Sawtooth Ridge, although none of the ridge campgrounds have water.
Day 1: Green Mountain
We arrived by car the previous evening at 23:30 and set up camp on the trailhead at the far end of the parking area, taking care to not be in the way of some car that arrives later at night. (People have been run over here before.)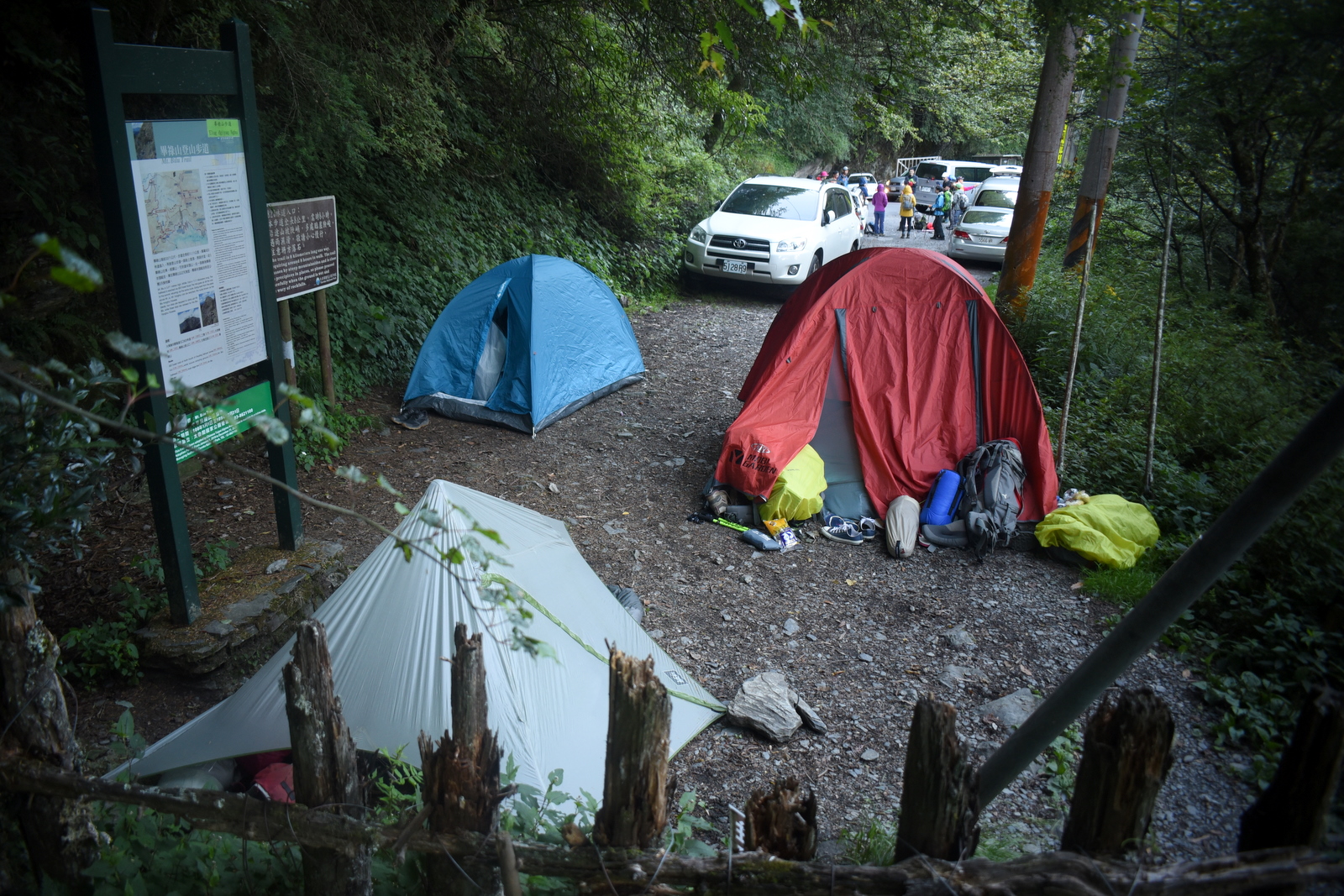 06:38Depart. The first 8.4 km of the trail are an easy walk along an old forest road.
08:22Wooden stairs lead to a camping spot with a water source a short distance ahead.
09:35Waterfall right before the 8.4K campground. Here we fill up water that we'll need to carry up to the Green Mountain Campground. (Note: there's another water source just past the 8.4K campground.) Take a break here.
10:25Begin the climb up to Green Mountain.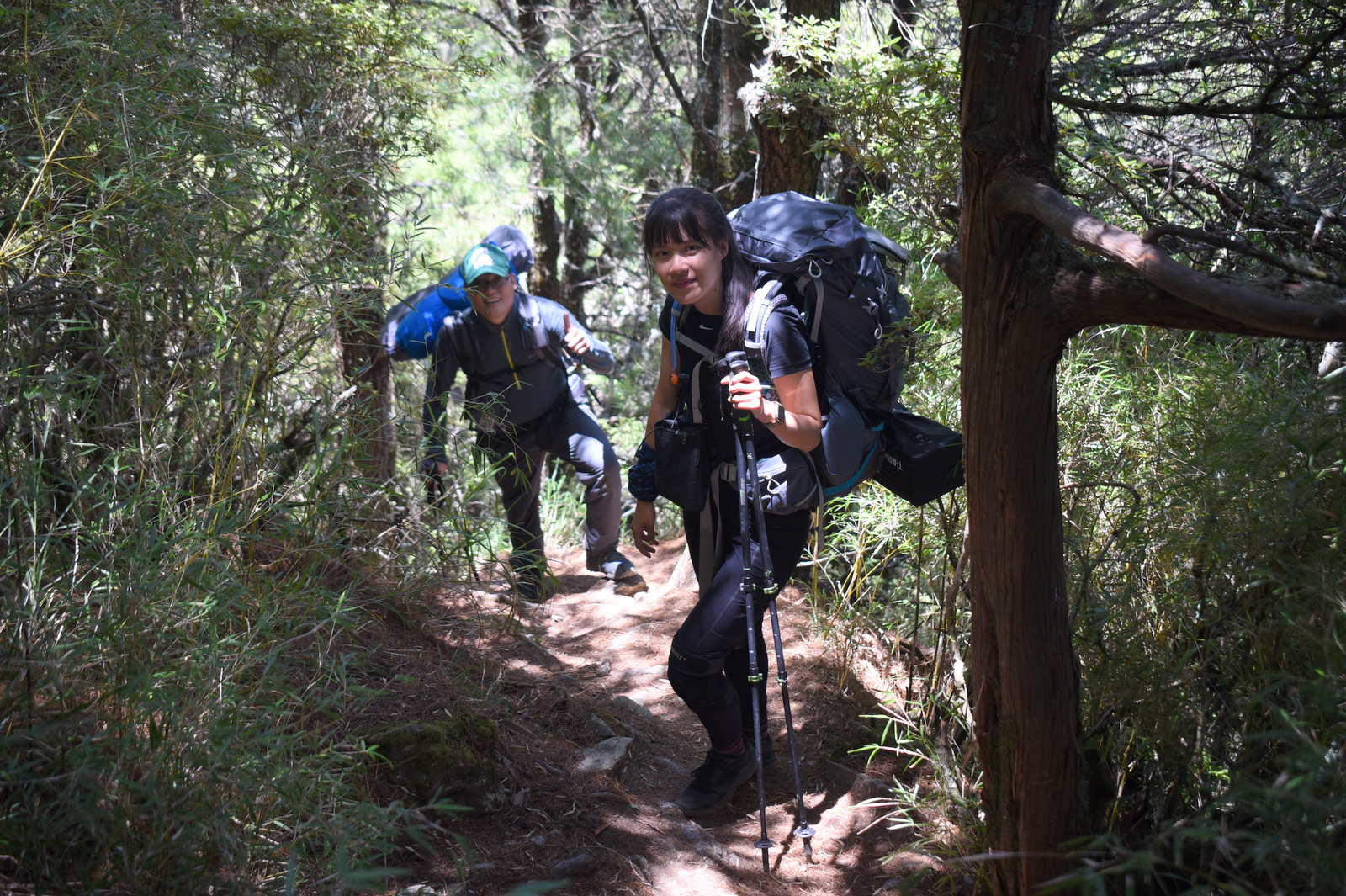 I'll introduce my hiking mates, Leah and Tiger, both coworkers. Tiger's equipment wasn't working out great this time - both his tent and sleeping pad were tied to the top of his pack and kept either sliding off or getting stuck in tree branches. So, this hike was very tiring for Tiger. I was also trying something new this hike: packing light.
13:20Top of the climb at 10.2K. To the left is the summit with just 0.2K to go. To the right is the campground.
13:28⛰️ Green Mountain, 3371 m #39
14:15After photos at the summit, we check out the campground. It is packed. I only have a tarp and find a hole in the bamboo to camp in, but my teammates need to flatten the bamboo to put their tents on top. We then have a few hours to kill. Soon after we make camp, it starts to rain, but the rain doesn't last long, and sunset provides another opportunity to visit the peak.
Day 2: Sheephead Mountain
05:06Sunrise.
06:23Depart toward the Sawtooth Ridge.
07:47⛰️ Saw Mountain, 3275 m.
08:00Depart.
08:1790-degree climb. Here people help each other pull up their packs. There are ropes to assist with the climb, but honestly its easier to just scramble up the rocks.
09:50Campground.
10:00⛰️ Saw Mountain East Peak, 3060 m. The sign for the East Peak is hanging off a branch above the trail, and it's really easy to miss. I only noticed because I was specifically looking for East Peak. Both my teammates missed it, as did everyone else who passed by while we were there.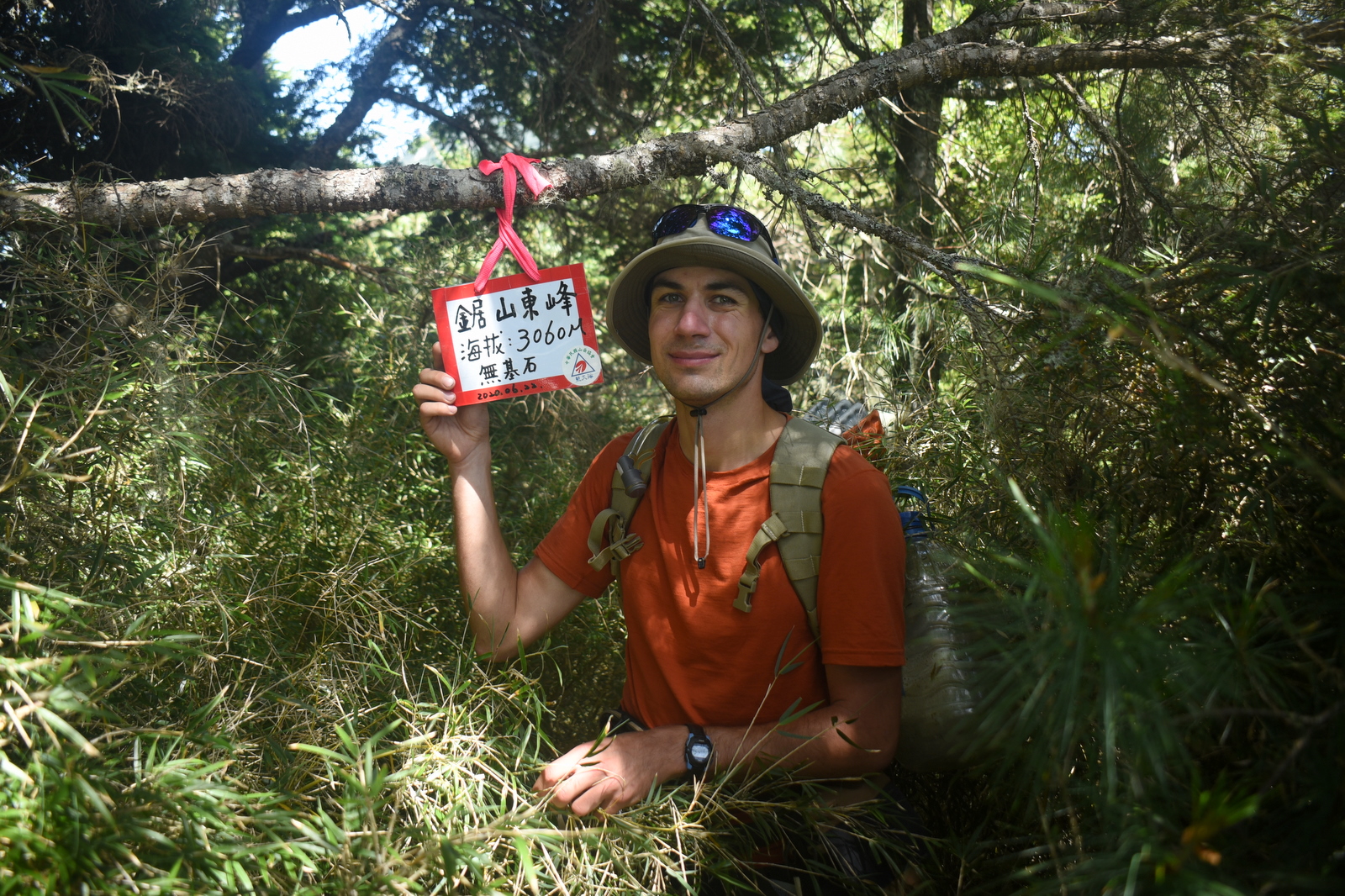 10:28Saddle junction. Popular lunch spot. This is where the trail to Sheephead Mountain forks off, so everyone leaves their heavy bags here to go to Sheephead Mountain lightweight. Day hikers probably stop here to rest as well.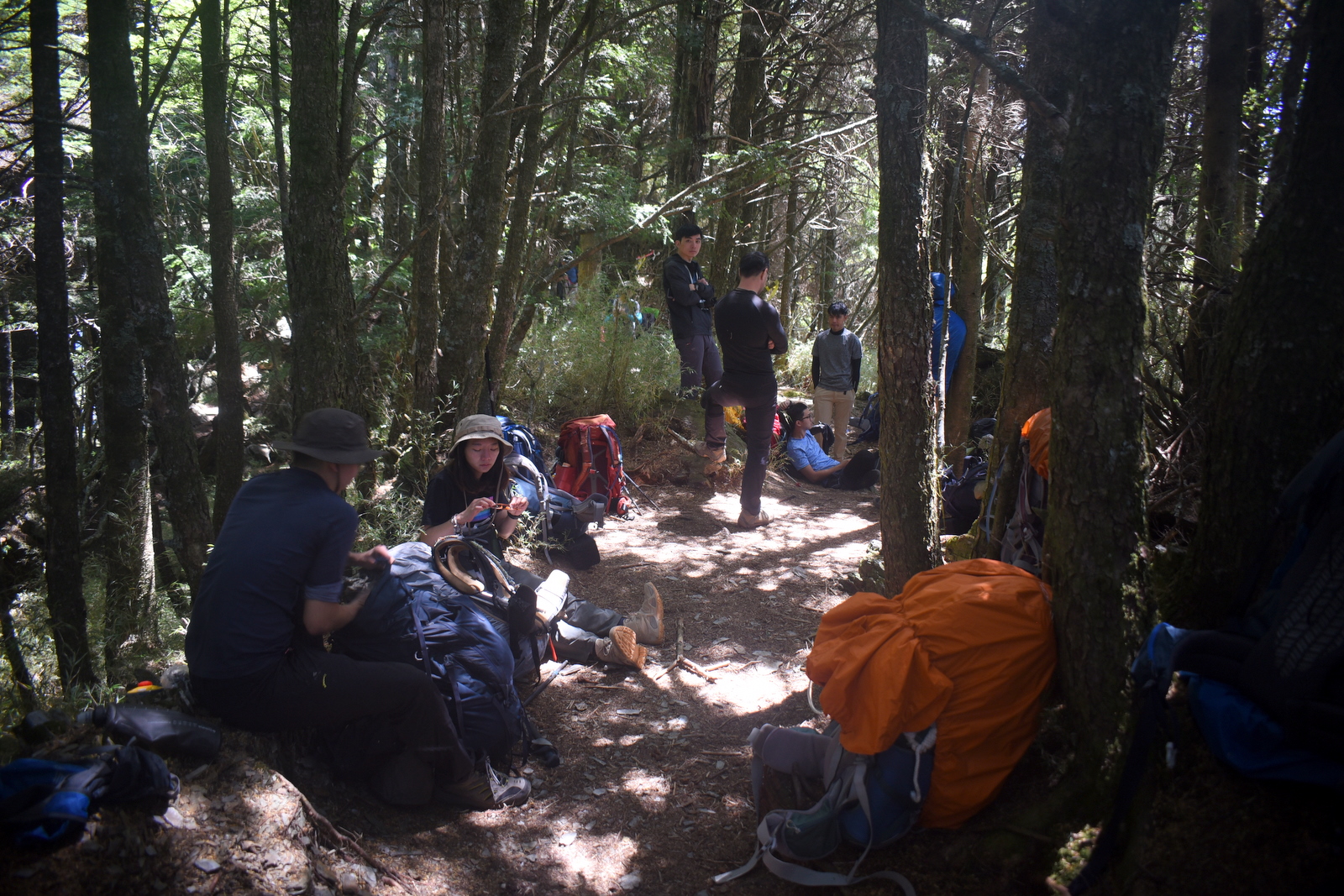 10:37After a short break, start climbing to Sheephead Mountain.
11:12⛰️ Sheephead Mountain, 3035 m #96. It's packed.
12:02The three of us start back down. I go ahead and wait for others at the saddle junction.
12:29Arrive saddle junction and eat lunch while waiting for Leah and Tiger.
13:32Begin the descent together.
14:202.0K (counting from the Sheephead Mountain trailhead). I lost my glasses. They fell off my hat somehow. Tiger, who was behind me, saw them lying on the road. I then raced up and down the trail looking for them and asking people if they saw them or picked them up. Someone must have picked them up and didn't say. Not cool.
15:59Sheephead Mountain trailhead is along a riverbed, however the river is diverted. I went uphill to look for water and found a stream. Then I made tea and had some snacks while we waited for our ride back to our car.
Dayuling tunnel, next to the Green Mountain trailhead, where we left our car.